50 Years of Care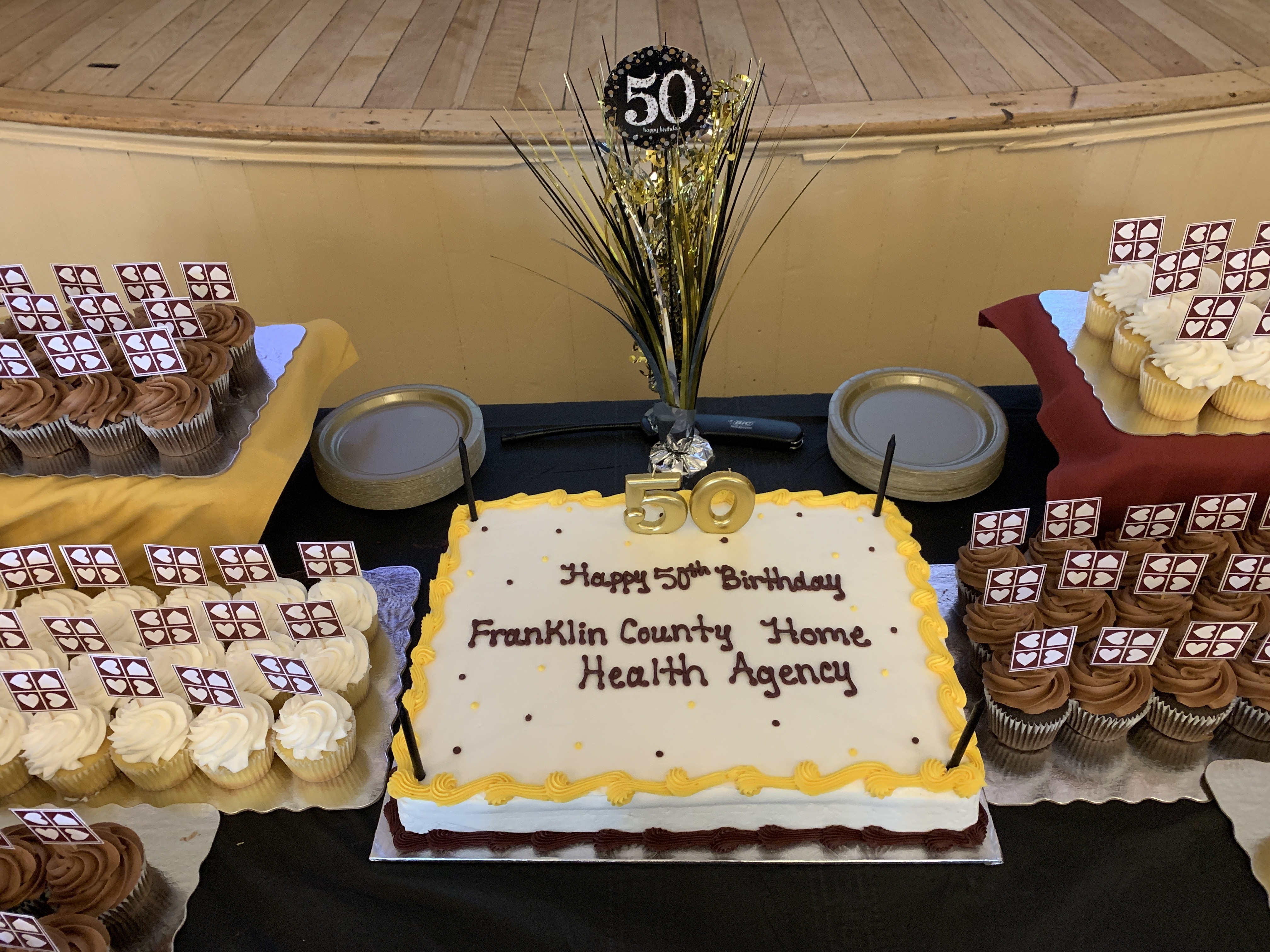 1969.
Neil Armstrong walked on the moon.
The first Gap store opened.
Elvis Presley made a comeback.
The price of a gallon of milk was 36 cents.
The price of a postage stamp was four cents.
And the dream of building a home health agency in Franklin County came to fruition.

That's the way Franklin County Home Health Agency (FCHHA) executive director Janet McCarthy opened her remarks at the FCHHA 50thAnniversary celebration at the St. Albans Museum on July 11.

Because in 1969, nurses Cynthia Rugg, Norma Walgrove and Ada Johnson realized that patients being discharged from their local hospital weren't getting the attention they needed. The county required each municipality to have a paid or unpaid public health nurse check on the sick, give baths and comfort the dying, but the three nurses believed that wasn't enough.

"I could see patients going home (from the hospital where she worked) with no help," said Rugg, who spoke at the event. "Ada Johnson, who was a public health nurse, told me, 'Cynthia, there's some money in Montpelier.'"

With the passage of Medicare came money for states to make grants to counties starting home health agencies. Johnson, Rugg and Walgrove sought to bring some of it to Franklin County, where they believed many people needed more help.

Rugg and Walgrove both had small children and worked the same shift at St. Albans hospital.

"We had a vision," Rugg declared. "And we met with select boards in every town to get their support. I had bankers and insurance people helping. Even lawyers volunteered their time," she laughed.

She also chuckled as she remembered trying to get the doctors at the hospital on board.

"There were no other women in the room—because there were no women doctors," Rugg said. We crashed their staff meeting. We were kind of invited, but not really," she remembered.

"They all just kind of looked at us," Walgrove said. "These two women telling the guys what Franklin County needed."

Eventually, most gave their support and, a year and a half after they started planning, they hired an executive director, Penny Wright, and a single full-time nurse, Anna Gagne. Rugg covered days off for the two.

Gagne remembers putting 4000 miles on her car in a single month before the agency hired some part-timers to help her cover Franklin County and Alburg.

"Penny also did some of that," she related. "She saw patients on her way home."

"We planned trips carefully so as not to go as many miles," Wright explained. "We did everything we could to save money. We made our own uniforms--we wore uniforms in those days."

Money for home health is always tight. Medicare and Medicaid don't typically cover costs and agencies rely on generous donors' support. FCHHA is no exception and many donors attended the celebration.

Sisters Mary Ellen Donovan and Cathy Donovan Bertin traveled from out of state and stayed at their family camp in Highgate so they could join. The two have been long-time supporters of FCHHA since their father passed away at the camp in 1995.

"Every person in this organization went out of their way to help him and made life so much easier for us. They even kept in touch after he died," Donovan said.

"They're worth every penny we give them," Bertin added. "It's a wonderful agency."

Walgrove also traveled to the event from her home in Maryland. While she'd left Vermont, she quipped that she's thought about FCHHA a lot throughout the years.

"Our goal when we started was to help people at home after they're discharged from the hospital," she said to the current employees at FCHHA. "You all have gotten into so much more—it's just phenomenal," she exclaimed.

"Whoever would have dreamed that the fledgling little home health agency that started in 1969 would be taking care of patients who need telemonitoring, infusion therapy, complex wound care and rehabilitation services?" mused McCarthy in her closing remarks. "Whoever would have dreamed that our organization has been called the largest nursing home in the county, allowing people to age in place and avoid going to a facility? Whoever would have dreamed that we would be touching the lives of more than 3000 people a year, driving half a million miles a year to make over 100,000 visits?"

While in Vermont for the celebration, the two founders rode along with current FCHHA staff on their calls. Walgrove accompanied a physical therapist, a professional not represented in home health of the '60s.

"We were lucky if we could get a few registered nurses then," she said. "The office was very small when we first started. Now there are more than 100 employees. That's a lot to coordinate."

But Rugg said some things have remained the same. She accompanied a nurse on her visit. "The only difference is the computer," she insisted. "Nursing hasn't changed that much. They're still really wonderful encouragers, an anchor for people. The attitude, the togetherness are still the same—very compassionate—because that's why we do it."

"If you really want to help someone, make a home visit," Walgrove remarked.



Next Blog Post
Last week, I had the privilege of joining Addison County Home Health and Hospice at the Town Hall Theater in Middlebury to celebrate their 50th anniversary. I confess that the last thing I wanted to do…