Advocates and Providers Call Upon Legislature to Fully Fund Long-Term Care at Press Conference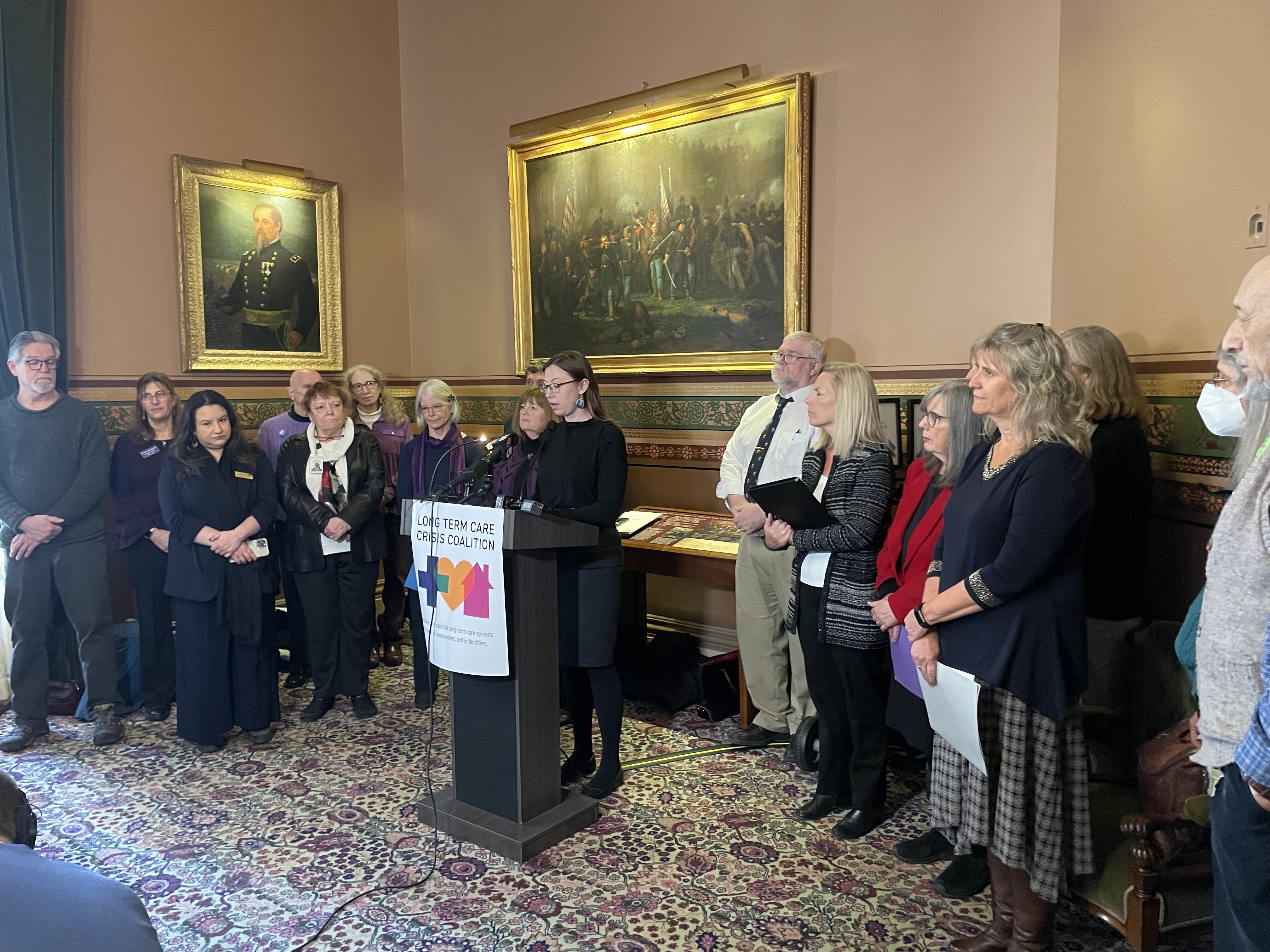 On Friday advocates and providers with the Long Term Care Crisis Coalition, of which VNAs of Vermont is a member, joined together to hold a press conference urging the Legislature to take immediate action and protect access to long-term care services for Vermonters by fully funding those services in the state budget.
Thousands of Vermonters depend on long-term care services for assistance performing basic activities of daily living such as dressing or bathing. Providers, like Vermont's home health agencies, support our family members, neighbors and friends who wish to remain in their homes or communities as they age. Chronic underfunding, a workforce crisis, and rising costs of care have put these services at risk.
Recently released rate studies conducted by the Department of Vermont Health Access show a significant need for Medicaid rate increases across the long-term care continuum to align payment for these vital services with the actual cost of care.
Fully implementing all the rate studies would cost about $31 million, including matching federal funds – about $13.2 million in state dollars. 'Choices for Care' services provided by home health agencies require about $8.1 million total including federal funds – about $3.4 million of state funding. The proposed SFY24 budget includes a $3 million total appropriation for home health agencies in the Disabilities Aging and Independent Living budget, including the federal match.
At the Friday press conference coalition members were joined by legislative champions for older Vermonters, including Representative Theresa Wood of Waterbury and Representative Dan Noyes of Wolcott, who spoke about the urgent need to invest in these critical services, which many Vermonters and their families rely on.
The full press conference can be viewed on the Community of Vermont Elders (COVE) Facebook page, and can be read about in VTDigger's 'Final Reading: In the Know' column.
Next Blog Post
On February 3, the Vermont House of Representatives passed the 2023 Budget Adjustment Act (BAA, H.145). If passed by the Senate and signed into law, the bill will increase skilled home health Medicaid rates to 90% of the Medicare fee-for-service fee schedule, effective back to January 1, 2023. This is an important step toward bringing Vermont Medicaid rates in line with federal Medicare.