NEK Prosper! Creates a Healthier Northeast Kingdom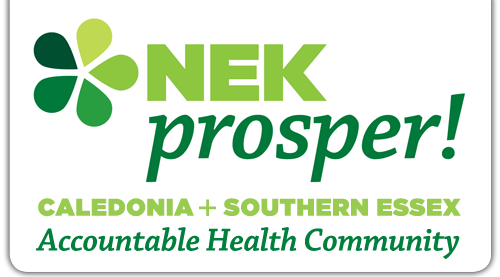 Imagine a community where everyone is:
mentally healthy
well-housed
financially secure
well-nourished
physically healthy
While we all may wish these outcomes for our own communities and others, are we doing everything we can to get there? Our member organization, Caledonia Home Health Care & Hospice is part of a collaborative with a plan to do just that."Our collaborative works to improve the health and well-being of the entire population of Caledonia and Southern Essex counties in Vermont," explains Treny Burgess, director of Caledonia Home Health Care & Hospice . "Good health is about much more than health care. We're working together with our social services partners on things like housing and food security which we know have a big impact on health."
Northeastern Vermont Regional Hospital acts as the backbone of the organization, working with these other member-organizations on the initiative's leadership team.
Organizations that help in the NEK Prosper! effort range from school districts to economic development and regional planning agencies to arts and the creative economy. OneCare VT is also involved.

"Effectively accomplishing the outcome goals of NEK Prosper! will have a big impact on the success of the Vermont's health care reform efforts," says Laural Ruggles, VP, Marketing and Community Health Improvement at Northeastern Vermont Regional Hospital. "Working together, we can influence the way people live and feel in a way health care providers on their own cannot," she adds.

The NEK Prosper! initiative provides a framework for local organizations to offer services that impact the five outcomes. It offers tools and resources on its website, nekprosper.org. It even hosts an event calendar, with events as diverse as a parents' coffee club, an open mike and a youth mental health first aid seminar for adults who work with young people.

"If you are inspired by this work, the best way to volunteer is to check out the Collaborative Action Network, where a lot of the work gets done by volunteers," Burgess relates. "CAN members study data, set goals and pick the best strategies to put into action.," she notes.

CAN meeting times, as well as find other community events, and fun and healthy activities for all ages appear on the NEK Prosper! Events Calendar.


Next Blog Post
Our advocacy activity in the 2019 session is picking up as committee chairs are turning their attention to bills of interest to home health and hospice agencies. We are pleased to report that since our last newsletter, the Senate unanimously passed S.14 , a five-year extension of the existing certificate of need moratorium on new home health agencies. Testimony has not yet been scheduled in the House.